Game 24 (BW Game 13)

UC Davis at UCSB
Saturday, February 11, 2023, 7:00 pm PST
Santa Barbara, Calif.

Quick Bite
Once again the Gauchos (19-4, 10-2) got off the floor, dusted themselves off and posted a high-quality conference road win. UCSB has quite the list of road scalps: Cal State Fullerton, UC Irvine, Hawai'i and now Long Beach State. The loss at CSUN continues to perplex, but JPL didn't play in the 2nd half of that contest and he was a difference maker at the Pyramid. He looked fully recovered from a hip injury as he was quick, bouncy and, most importantly, under control.

The Gauchos now return home to face another team they have yet to face in the guard-oriented Aggies (14-10, 7-5). UC Davis has the highest-scoring 1-2 combo in the Big West in Elijah Pepper and Ty Johnson. Pepper is on an unbelievable roll, having reached or surpassed 28 points in 4 straight games. He's a bull in a china shop driving inside, but he can also hit threes and is essentially a stat-stuffer, filling every column with crooked numbers. Johnson runs the point and is the #4 scorer in the conference, but he is prone to turnovers. The Aggies like to push the ball , feeding off of turnovers, and are very streaky. They can go ice cold and then explode for points.

UC Davis-UCSB History
UCSB leads the series 32-11
Recent games
February 24, 2022: W 76-69 (OT) at Davis
March 12, 2021: W 71-55 at BWT, Paradise, NV
January 30, 2021: W 89-86 (OT) at Davis
January 29, 2021: W 72-51 at Davis
February 22, 2020: W 70-56 at Santa Barbara
February 13, 2020: L 75-84 at Davis
February 9, 2019: L 57-61 at Santa Barbara
January 17, 2019: W 69-58 at Davis
February 17, 2018: L 54-71 at Santa Barbara
February 8, 2018: W 90-81 at Davis

The Arena
The Thunderdome
Capacity: 5,000
Saturday night is Goleta Union School District night where all families in the district can claim free tickets to attend.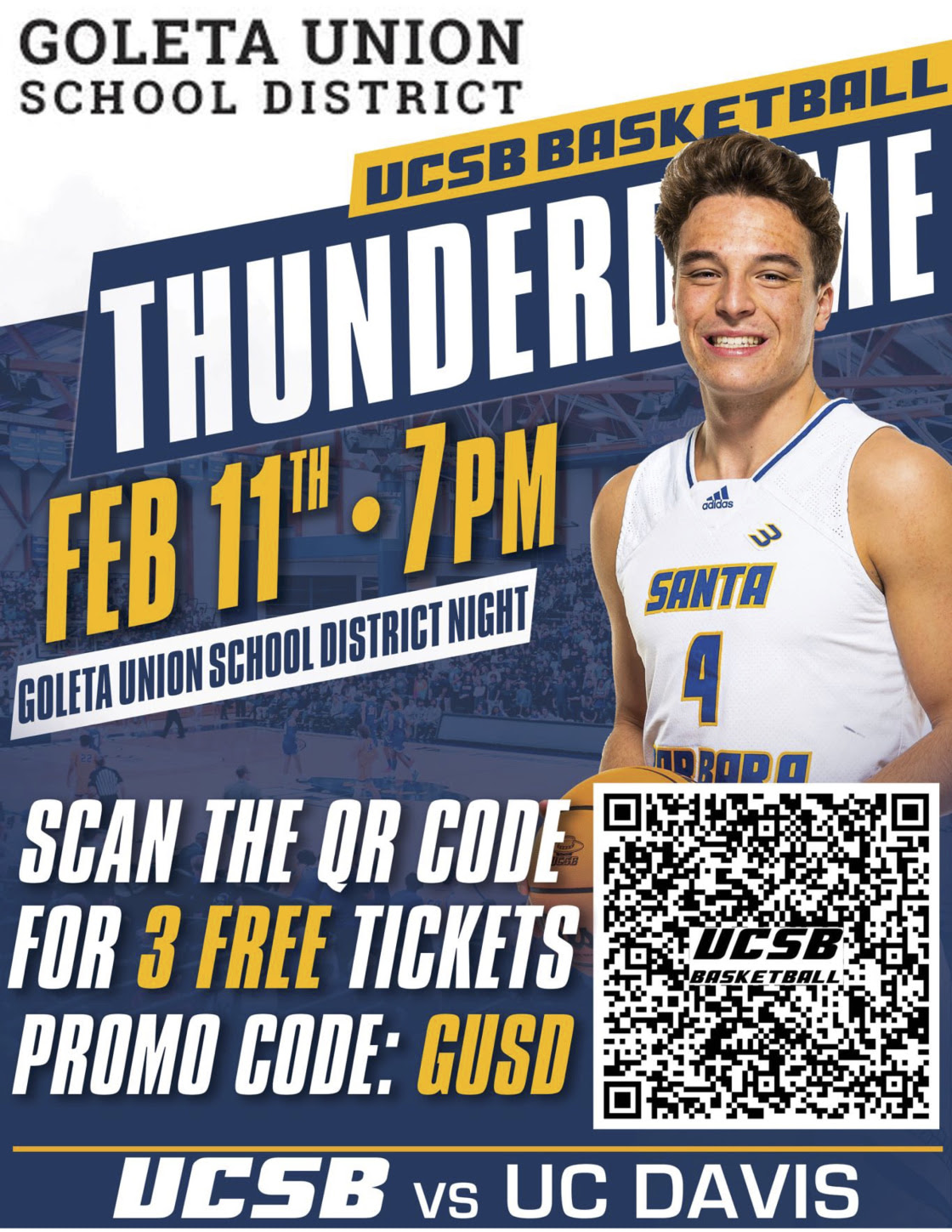 Head Coach
Jim Les
overall: 332-329 (.502)
UC Davis: 178-189 (.485)
Monson is in his 13th season at Davis. He has 2 Big West regular-season titles (2015, 2018) and 1 Big West Tournament title (2017). Prior to his arrival in Davis he roamed the sidelines for nine seasons at his alma mater Bradley, where he made one trip to the NCAA and made a run to the Sweet Sixteen. He played his college ball at Cleveland State and then Bradley and had NBA stops with Utah, the Clippers, Sacramento and Atlanta. He led the NBA in 3-point shooting with the Kings in 1991. He even spent some time with the Santa Barbara Islanders of the CBA.

UC Davis Roster
Elijah Pepper #40 JR G, 6-4 200, Selah, WA -- 20.9 Pts, 6.0 Reb, 3.7 Ast
Ty Johnson #2 SO G, 6-3 190, Chicago, IL -- 15.8 Pts, 4.7 Reb, 2.3 Ast
Christian Anigwe #4 SR F, 6-9 220, Phoenix, AZ -- 11.7 Pts, 5.4 Reb, 0.9 Ast
Robby Beasley #5 SO G, 6-3 190, San Ranon, CA -- 9.8 Pts, 3.2 Reb, 1.2 Ast
Kane Milling #0 JR G, 6-4 180, Nantes, France -- 6.0 Pts, 3.9 Reb, 1.5 Ast
Ade Adebayo #24 JR G, 6-4 200, London, United Kingdom -- 4.0 Pts, 4.0 Reb, 0.6 Ast
Leo DeBruhl #10 SO G, 6-2 190, Seattle, WA -- 3.6 Pts, 1.8 Reb, 1.9 Ast
Niko Rocak #20 SO F, 6-9 220, Geneva, Switzerland -- 2.4 Pts, 2.3 Reb, 0.3 Ast
Sione Lose #22 FR G, 6-4 170, Sacramento, CA -- 1.1 Pts, 2.0 Reb, 0.8 Ast
DeAndre Henry #15 JR F, 6-7 225, Phoenix, AZ -- 5.3 Pts, 3.8 Reb, 0.3 Ast
Sam Manu #13 JR F, 6-7 210, San Mateo, CA -- 2.1 Pts, 1.0 Reb, 0.1 Ast
Jac Mani #11 FR F, 6-9 217, Beverly Hills, CA -- 5.0 Pts, 1.7 Reb, 0.0 Ast
Francesco Borra #55 SO F, 6-11 250, Moncalieri, Italy -- 1.0 Pts, 1.5 Reb, 0.4 Ast
Patrick Lambey #23 JR F, 6-5 190, Granite Bay, CA -- 1.3 Pts, 0.3 Reb, 0.3 Ast

UCSB Roster
Ajay Mitchell #13 SO G, 6-4 180, Sainte Marie Namur (Belgium) -- 15.6 Pts, 2.6 Reb, 4.9 Ast
Miles Norris #5 SR F, 6-10 220, San Diego, CA -- 13.7 Pts, 6.3 Reb, 1.4 Ast
Andre Kelly #2 SR F, 6-8 255, Stockton, CA -- 9.4 Pts, 6.6 Reb, 0.9 Ast
Josh Pierre-Louis #1 SR G, 6-4 185, Plainfield, NJ -- 9.4 Pts, 4.0 Reb, 2.0 Ast
Cole Anderson #4 SO G, 6-4 185, Fresno, CA -- 7.0 Pts, 1.2 Reb, 0.7 Ast
Ajare Sanni #3 SR G, 6-3 170, Houston, TX -- 6.7 Pts, 2.0 Reb, 1.0 Ast
Calvin Wishart #10 SR G, 6-1 180, Delano, MN -- 6.1 Pts, 2.8 Reb, 2.6 Ast
Koat Keat Tong #00 FR F, 6-9 215, Bentiu, South Sudan -- 1.8 Pts, 4.0 Reb, 0.3 Ast
Jakov Kukic #14 JR F, 6-10 230, Split, Croatia -- 1.5 Pts, 2.2 Reb, 0.1 Ast
Evans Kipruto #12 JR F, 6-8 250, Nairobi, Kenya -- 0.9 Pts, 0.7 Reb, 0.0 Ast
Matija Belic #32 FR G, 6-7 205, Belgrade, Serbia -- 0.5 Pts, 0.9 Reb, 0.3 Ast
David Pickles #40 SO F, 6-10 235, Seattle, WA -- 1.5 Pts, 0.5 Reb, 0.0 Ast
Gage Gomez #50 JR G, 6-3 190, Arroyo Grande, CA -- 0.4 Pts, 0.4 Reb, 0.4 Ast
Ariel Bland #23 SO F, 6-7 215, Eden Prairie, MN -- 0.0 Pts, 1.5 Reb, 0.0 Ast
Henry Hartwell #51 FR G, 6-5 180, Oceanside, CA -- 0.0 Pts, 0.5 Reb, 0.0 Ast
Max Sheldon #53 SO G, 5-11 180, Santa Barbara, CA -- 0.0 Pts, 0.0 Reb, 0.0 Ast

UC Davis National Ranking Outliers
Team
Assist/Turnover Ratio: 301 (0.86)
Bench Points per game: 305 (14.50)
Fastbreak Points: 16 (14.62)
Free Throw Attempts per game: 12 (23.8)
Free Throws Made per game: 22 (16.2)
Rebound Margin: 39 (+5.0)
Rebounds (Offensive) per game: 52 (11.88)
Three Point percentage Defense: 344 (.381)
Turnovers Forced per game: 51 (14.96)
Players
Elijah Pepper -- Assists: 197 (86), Assists per game: 175 (3.7), Double Doubles: 318 (2), Field Goal Attempts: 45 (350), Field Goal percentage: 178 (.463), Elijah Pepper: 46 (162), Free Throw attempts: 48 (140), Free Throw percentage: 246 (.779), Free Throws: 47 (109), Minutes per game: 131 (34:10), Points: 25 (481), Points per game: 16 (20.9), Rebounds (Defensive) per game: 222 (4.74), Rebounds per game: 335 (6.0), Steals: 190 (36), Steals per game: 165 (1.57), Three Point Attempts: 190 (142), Three Pointers per game: 224 (2.09), Three Pointers: 267 (48)
Christian Anigwe -- Blocks: 102 (31), Blocks per game: 97 (1.35), Free Throw Attempts: 254 (98), Rebounds (Offensive) per game: 210 (2.22)
Ty Johnson -- Field Goal Attempts: 299 (270), Field Goal percentage: 147 (.478), Field Goals: 229 (129), Free Throw Attempts: 35 (145), Free Throws: 73 (100), Points: 196 (378), Points per game: 185 (15.8), Steals: 104 (42), Steals per game: 98 (1.75)
UCSB National Ranking Outliers
Team
Effective FG percentage: 49 (.539)
Field Goal percentage: 14 (.488)
Rebound Margin: 50 (+4.4)
Scoring Defense: 24 (62.8)
Scoring Margin: 67 (+7.8)
Three Point Attempts per game: 339 (16.3)
Three Pointers per game: 330 (5.4)
Winning percentage: 10 (.826)
Players
Ajay Mitchell -- Assist/Turnover ratio: 92 (2.05), Assists: 66 (113), Assists per game: 53 (4.9), Double Doubles: 318 (2), Field Goal percentage: 110 (.500), Field Goals: 270 (124), Free Throw attempts: 103 (123), Free Throw percentage: 218 (.789), Free Throws: 80 (97), Minutes per game: 269 (32:39), Points: 251 (358), Points per game: 200 (15.6), Steals: 208 (35), Steals per game: 177 (1.52)
Miles Norris -- Blocks: 253 (22), Blocks per game: 249 (0.96), Double Doubles: 211 (3), Field Goal percentage: 107 (.502), Minutes per game: 276 (32:32), Rebounds: 330 (144), Rebounds (Offensive) per game: 237 (2.13), Rebounds per game: 272 (6.3)
Andre Kelly -- Blocks: 299 (20), Blocks per game: 290 (0.87), Double Doubles: 113 (5), Rebounds: 264 (151), Rebounds (Defensive) per game: 149 (5.13), Rebounds per game: 224 (6.6)
Josh Pierre-Louis -- Steals: 261 (33), Steals per game: 164 (1.57)
Prediction
I think the Gauchos have learned their lesson (fingers crossed). Thursday was a well-played basketball game deserving of the national stage. Hopefully the Gauchos are not looking ahead as the Aggies are a dangerous team. UCSB 70, UC Davis 61

Official Site: https://ucdavisaggies.com/sports/mens-basketball
Hey Guys!: https://www.aggiesportstalk.com/categor ... lton-court
How to Watch: https://www.espn.com/watch/player/_/id/ ... 7fbe8d0e8a
Live stats: http://stats.statbroadcast.com/broadcast/?id=428861