Game 21 (BW Game 10)
Cal Poly at UCSB
Thursday, February 2, 2023, 7:00 pm PST
Santa Barbara, Calif.

Quick Bite
Gaucho fans are plotting paths to 30 wins after our boys snagged a 2nd significant road win in the Big West race. The Gauchos (17-3, 9-1) have won at arguably the two most difficult places to play in the conference and have the lead on the back stretch with UC Riverside and UC Irvine nipping at their heels. As the season progresses, the team continues to improve in playing its style of basketball with each of its players seeming to settle into their roles. This week is the calm before the storm: The Gauchos visit last-place CSUN on Saturday before embarking on a 7-games-in-3-weeks segment that will largely determine their fate. Consider this: the Gauchos will have played half of their Big West schedule once Cal Poly is in the books. They will be finished with the Mustangs along with CSU Bakersfield. Their 2nd half will include two games with contending UC Davis and two more with surging Long Beach State, along with games vs. Irvine, Fullerton, Hawai'i and at Riverside. It's going to get sporty!

The Mustangs (5-16, 1-9) have imploded. They had their best non-conference season in recent memory, but they have hit the skids in 2023. They did not win in January, going 0-9 while topping 60 points just 3 times. Yes, they've lost some close games, but they've been buried as well. Let them hang around and they gain confidence. Jump on them and they roll over and submit. I think we know what Santa Barbara has to do.

Last meeting
Jan. 7: UCSB 62, @ Cal Poly 57
Miles Norris scored 16 points and pulled down 6 rebounds as the Gauchos shrugged off poor 1st-half shooting, rebounding and turnovers to beat the Mustangs. UCSB shot 74% in the 2nd half after making just 30% of its 1st-half field goals. Cal Poly led 43-41 with 6:53 remaining, but was outscored 10-0 over the next 4 minutes. Ajay Mitchell scored 12 of his 15 points in the 2nd half. Chance Hunter made five 3-pointers on his way to 19 points for the Mustangs, who won the rebounding battle 31-27.

Last time out
Jan. 26: UCSB 65, @ Hawai'i 64
Ajay Mitchell made a driving bank shot with 1.9 seconds left to lift the Gauchos over the Rainbow Warriors. Mitchell scored 24 points as UCSB improved to 4-3 in its last 7 games to the Islands. UCSB led by as many as 13 points but Hawai'i rallied with a 9-0 run to take a 1-point lead.

Jan. 28: Cal State Fullerton 65, @ Cal Poly 36
The Titans used a 31-6, 1st-half run to bury the Mustangs. Max Jones scored 16 points on 6-of-7 shooting for Fullerton, which led 37-16 at halftime and by as many as 31 points in the 2nd half. Cal Poly made just 5 baskets in the 1st half in losing its 9th straight game.

The Arena
The Thunderdome
Capacity: 5,000
The school is giving away 3,000 rally towels for the game.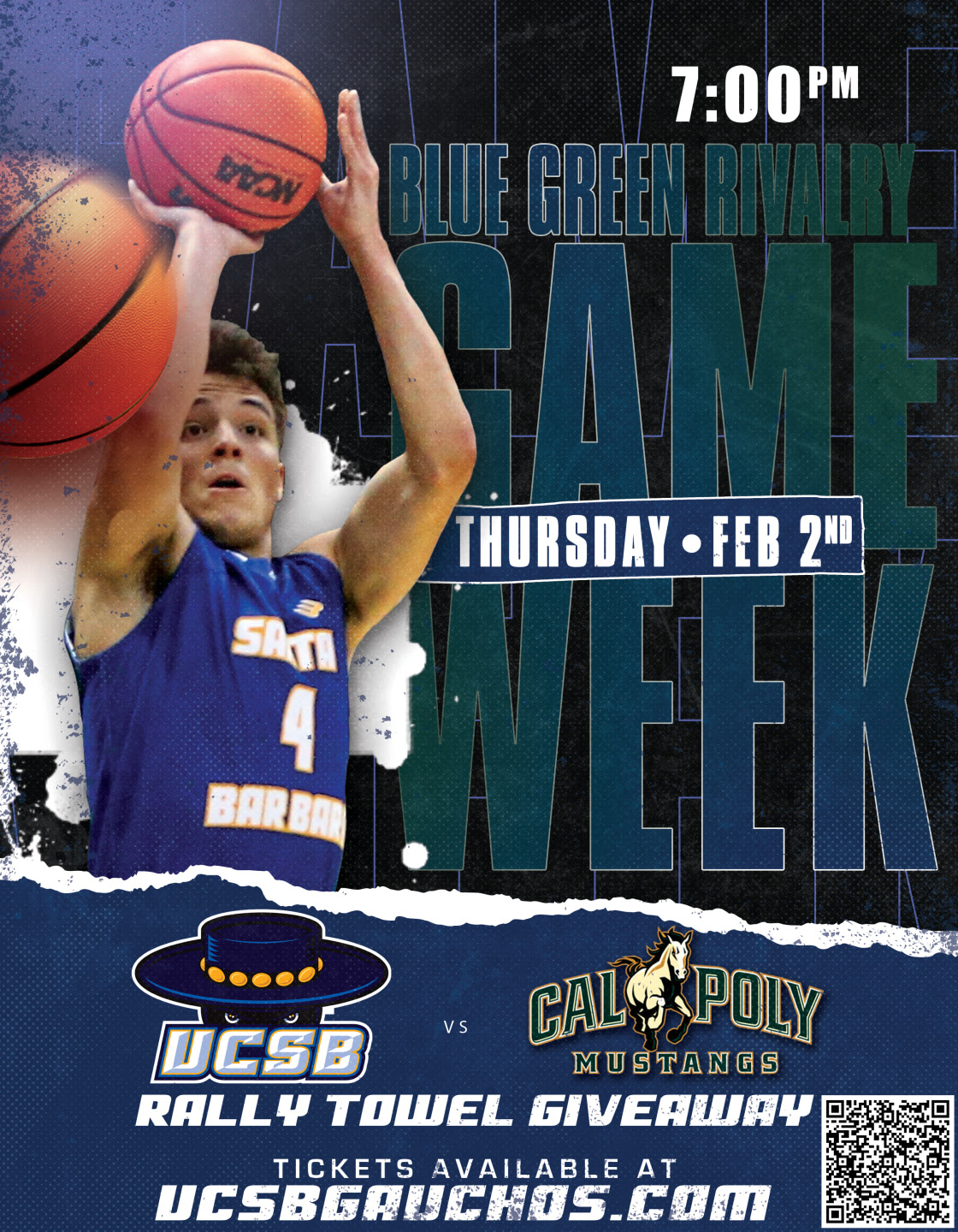 Cal Poly Roster
Alimamy Koroma #15 SR F, 6-8 220, Freetown, Sierra Leone -- 10.2 Pts, 4.5 Reb, 0.4 Ast
Trevon Taylor #2 SR G, 6-6 197, Chesapeake, VA -- 10.0 Pts, 5.2 Reb, 1.1 Ast
Brantly Stevenson #4 JR F, 6-4 185, Rancho Cucamonga, CA -- 8.8 Pts, 3.5 Reb, 1.2 Ast
Chance Hunter #31 SR G, 6-6 190, Inglewood, CA -- 8.3 Pts, 3.8 Reb, 0.5 Ast
Kobe Sanders #3 JR G, 6-6 175, San Diego, CA -- 7.7 Pts, 3.1 Reb, 2.3 Ast
Nick Fleming #12 SR G, 6-1 165, Atlanta, GA -- 4.1 Pts, 2.1 Reb, 1.6 Ast
Camren Pierce #1 JR G, 5-10 175, Rancho Cucamonga, CA -- 4.8 Pts, 1.8 Reb, 2.1 Ast
Bryan Penn-Johnson #23 JR C, 7-0 260, Long Beach, CA -- 3.3 Pts, 1.8 Reb, 0.1 Ast
Julien Franklin #5 SO G, 6-7 200, Brea, CA -- 2.3 Pts, 2.4 Reb, 0.6 Ast
Aidan Prukop #11 SO G, 6-4 180, Ladera Ranch, CA -- 2.2 Pts, 0.9 Reb, 0.6 Ast
Cole Haller #21 FR F, 6-7 185, Bellevue, WA -- 1.5 Pts, 1.3 Reb, 0.0 Ast
Isaac Spears #10 FR G, 6-4 170, Las Vegas, NV -- 3.3 Pts, 0.7 Reb, 0.7 Ast
Hayden Jory #0 SO G, 5-11 170, Lompoc, CA -- 0.8 Pts, 0.9 Reb, 0.6 Ast
Aaron Price #22 FR F, 6-8 195, Las Vegas, NV -- 1.7 Pts, 1.7 Reb, 0.0 Ast
Nick Carlson #13 JR G, 6-0 155, La Mesa, CA -- 0.5 Pts, 0.5 Reb, 0.0 Ast
Matur Dhal #35 SO C, 6-11 195, Tempe, AZ -- 2.0 Pts, 4.0 Reb, 0.0 Ast

UCSB Roster
Ajay Mitchell #13 SO G, 6-4 180, Sainte Marie Namur (Belgium) -- 15.9 Pts, 2.8 Reb, 4.6 Ast
Miles Norris #5 SR F, 6-10 220, San Diego, CA -- 13.4 Pts, 6.4 Reb, 1.5 Ast
Andre Kelly #2 SR F, 6-8 255, Stockton, CA -- 9.2 Pts, 6.2 Reb, 1.0 Ast
Josh Pierre-Louis #1 SR G, 6-4 185, Plainfield, NJ -- 9.4 Pts, 3.9 Reb, 2.1 Ast
Cole Anderson #4 SO G, 6-4 185, Fresno, CA -- 7.3 Pts, 1.2 Reb, 0.8 Ast
Calvin Wishart #10 SR G, 6-1 180, Delano, MN -- 6.6 Pts, 2.9 Reb, 2.7 Ast
Ajare Sanni #3 SR G, 6-3 170, Houston, TX -- 6.5 Pts, 2.3 Reb, 1.0 Ast
Koat Keat Tong #00 FR F, 6-9 215, Bentiu, South Sudan -- 1.5 Pts, 3.9 Reb, 0.3 Ast
Jakov Kukic #14 JR F, 6-10 230, Split, Croatia -- 1.5 Pts, 2.2 Reb, 0.1 Ast
Evans Kipruto #12 JR F, 6-8 250, Nairobi, Kenya -- 1.0 Pts, 0.8 Reb, 0.0 Ast
Matija Belic #32 FR G, 6-7 205, Belgrade, Serbia -- 0.5 Pts, 0.9 Reb, 0.3 Ast
David Pickles #40 SO F, 6-10 235, Seattle, WA -- 1.5 Pts, 0.5 Reb, 0.0 Ast
Gage Gomez #50 JR G, 6-3 190, Arroyo Grande, CA -- 0.4 Pts, 0.4 Reb, 0.4 Ast
Ariel Bland #23 SO F, 6-7 215, Eden Prairie, MN -- 0.0 Pts, 1.5 Reb, 0.0 Ast
Henry Hartwell #51 FR G, 6-5 180, Oceanside, CA -- 0.0 Pts, 0.5 Reb, 0.0 Ast
Max Sheldon #53 SO G, 5-11 180, Santa Barbara, CA -- 0.0 Pts, 0.0 Reb, 0.0 Ast

Cal Poly National Ranking Outliers
Team
Assist/Turnover Ratio: 348 (0.69)
Assists per game: 341 (10.0)
Blocks per game: 284 (2.5)
Effective FG pct: 316 (.471)
Field Goal pct: 303 (.418)
Fouls per game: 334 (19.6)
Free Throw Attempts per game: 316 (15.0)
Free Throw pct: 68 (.743)
Scoring Defense: 69 (65.6)
Scoring Margin: 314 (-4.9)
Scoring Offense: 345 (60.7)
Steals per game: 284 (5.5)
Three Point Attempts per game: 281 (19.0)
Three-Point pct: 336 (.294)
Three Pointers per game: 326 (5.6)
Turnover Margin: 316 (-2.0)
Turnovers per game: 310 (14.6)
Winning pct: 302 (.318)
Players
Alimamy Koroma -- Blocks: 254 (19), Blocks per game: 289 (0.86)
UCSB National Ranking Outliers
Team
Effecive FG pct: 37 (.545)
Field Goal pct: 9 (.493)
Rebound Margin: 37 (+5.2)
Scoring Defense: 22 (62.0)
Scoring Margin: 53 (+8.8)
Three Point Attempts per game: 342 (16.0)
Three Pointers per game: 328 (5.4)
Winning percentage: 10 (.850)
Players
Ajay Mitchell -- Assist/Turnover ratio: 119 (1.92), Assists: 103 (92), Assists per game: 75 (4.6), Field Goal pct: 98 (.509), Field Goals: 277 (110), Free Throw Attempts: 128 (104), Free Throw pct: 154 (.817), Free Throws: 83 (85), Minutes per game: 308 (32:05), Points: 255 (318), Points per game: 177 (15.9), Steals: 200 (32), Steals per Game: 164 (1.60)
Miles Norris -- Blocks: 232 (20), Blocks per game: 209 (1.00), Double Doubles: 193 (3), Field Goal pct: 106 (.505), Minutes per game: 313 (32:01), Rebounds: 322 (128), Rebounds (Defensive) per game: 330 (4.30), Rebounds (Offensive) per game: 244 (2.10), Rebounds per game: 250 (6.4)
Andre Kelly -- Blocks: 254 (19), Blocks per game: 247 (0.95), Double Doubles: 193 (3), Rebounds (Defensive) per game: 186 (4.95), Rebounds per game: 280 (6.2)
Josh Pierre-Louis: Steals: 221 (31), Steals per Game: 122 (1.72)
Prediction
The Gauchos should have no trouble pulling away from the fading Mustangs. UCSB 70, Cal Poly 46

Official Site: https://gopoly.com/sports/mens-basketball
Hey Guys!: https://www.tapatalk.com/groups/calpoly ... board-f66/
How to Watch: https://www.espn.com/watch/player/_/id/ ... 80d612833b
Live stats: http://stats.statbroadcast.com/broadcast/?id=428860